Overview
Take your favourite content to the next level with this immersive, easy-to-set-up home cinema system that combines a tech-packed soundbar, booming bass, and surround speakers for a cinematic experience right from your living room. The stylish Bose Soundbar 500 delivers ultra-high performance with an ultra-thin design. Meanwhile, the Bass Module 500 produces heart-stopping thunder, and the Surround Speakers provide clear audio from all directions, resulting in a powerful sound occasion for any occasion.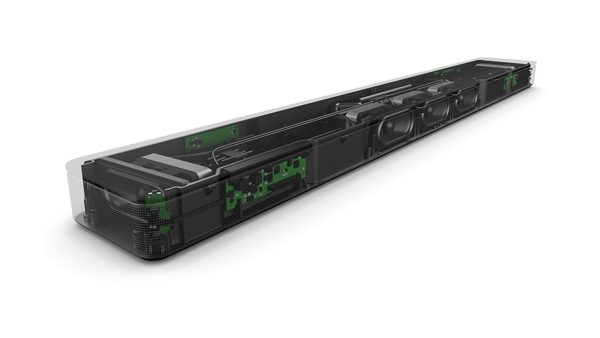 Sounds good, anywhere
ADAPTiQ audio room calibration will optimise its acoustic performance for the unique characteristics of your room – giving you the best possible listening experience.
Elegant lightbar
Not sure the soundbar heard you? An ingenious light bar helps indicate when your voice assistant is listening, thinking or speaking.

Clear voice pickup
Custom-designed microphones in both the front and the back of the soundbar deliver superior voice pickup, so the soundbar will still hear you even when the music is playing loud.

Proprietary drivers
Custom-designed transducers provide superior clarity while maintaining an incredibly slim design.
QuietPort technology
The soundbar's recessed ports use a piece of resistant screen to reduce turbulent noise while getting more sound through a smaller opening. The result? Virtually distortion-free bass from a slim profile.
Want to watch TV but not disturb anyone else? Now, with Bose SimpleSync technology, you can group select Bose headphones with the Bose Soundbar 500 for a personal TV listening experience. With independent volume controls, you can lower or mute your soundbar while keeping your headphones as loud as you like.
With Google Assistant and Alexa built right into the Bose Soundbar 500, you can control your music, get information, and manage your day without lifting a finger.* Just choose your voice assistant to start listening. And with Alexa only (where available), you can even make or take calls to Bose smart products, Amazon Echo products, and anyone in your contacts list. Hands free, phone free, and free of charge.**

But what good is voice control if the soundbar can't hear you? Experience superior voice pickup from a custom-designed eight-microphone array that will still hear you no matter how loud your music is. And an ingenious light bar will help visually indicate when your voice assistant is listening, thinking or speaking.


*Voice services (Amazon Alexa, Google Assistant) may vary and may not be available in all languages and countries.

When it comes to what you want to hear, you have so many options. With Wi-Fi, Bluetooth, Chromecast built-in, Apple AirPlay 2 and Spotify Connect compatibility, you can wirelessly stream whatever you want, however you want. Browse your favourite music services or play anything from your mobile devices. If you can get it on your devices, you can hear it through the Bose Soundbar 500. Music services may vary.
The Bose Music app walks you through setup, lets you choose your voice assistant, group compatible Wi-Fi-enabled products, and more. You can easily browse through all of your music in one place and seamlessly jump between stations, playlists, and services. And multiple users can personalise their experience and content.

The Bose Smart Soundbar 500 is a great start, adding the Bose Bass Module 500 takes your music, movies and more to a whole new level. This 25-cm cube with wireless connectivity makes it easy to hide. The Bose Surround Speakers gives you a fully immersive sound experience. Two wireless receivers accompany the speakers to facilitate a wireless connection to the soundbar.
Support
Owner's guide
Quick start guide