Lifestyle 550 home entertainment system
SPEAKERS THAT BLEND IN. SOUND THAT STANDS OUT.
AVAILABLE TO SHIP IN 2 WEEKS
Overview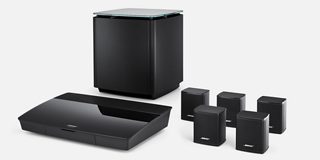 Complete system. Clear, powerful performance.



Bring your entertainment to life and experience clarity and bass at all volume levels. Designed to deliver, the Lifestyle 550 system gives you surprisingly high-quality, lifelike sound—from surprisingly small speakers.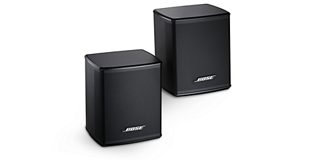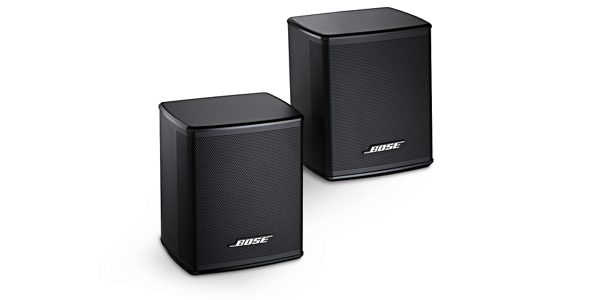 Only the speaker is virtually invisible
When it comes to speakers, the only thing that you want to stand out is the sound. Slim and stylish, Virtually Invisible speakers are only about 8.9 cm high. Designed to blend in nicely, they're low profile and can mount flush to your wall with optional brackets.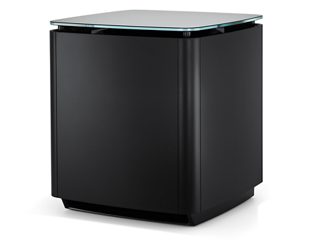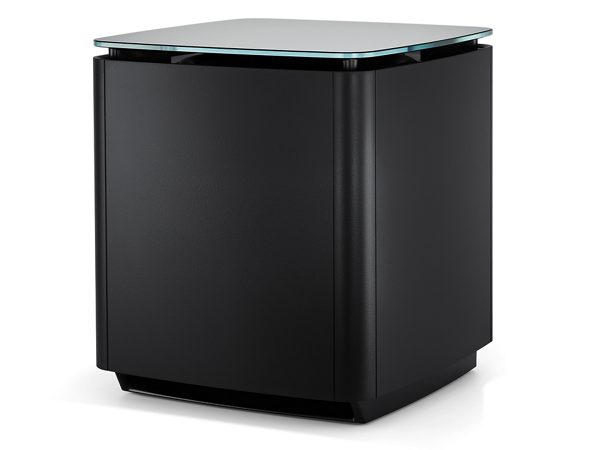 Turn it up and really feel it
Really great bass transforms your living room listening experience from run-of-the-mill to front-row-seat. This small wireless subwoofer delivers on sound and style with its deep, thunderous bass and premium glass top. A powerful driver and QuietPort technology combine for best-in-class performance for size.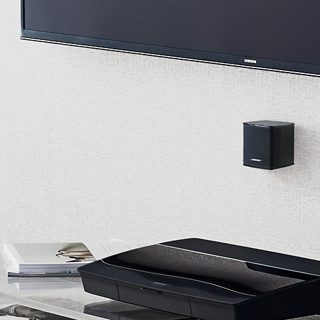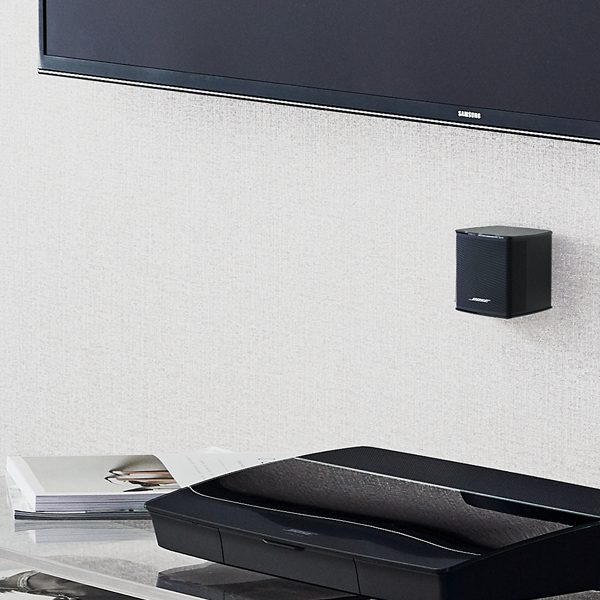 SO MUCH MORE THAN GOOD LOOKS



The glass-topped media console offers the latest audio and video technologies—including 4K video and 6 HDMI™ inputs. Use Wi-Fi® or Bluetooth® with NFC pairing to stream music to a system that looks as good as it sounds. Now all you have to worry about is what to listen to first.

Same system. Different speakers.
Which is right for you?
LIFESTYLE 650 SYSTEM
OMNIJEWEL SPEAKERS
360° output, our most spacious satellite speakers
Powerful, 21" centre channel speaker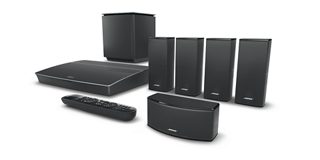 LIFESTYLE 600 SYSTEM
JEWEL CUBE SPEAKERS

Direct/reflecting satellite speakers with angled transducers
Compact, 6" centre channel speaker
Lifestyle 550 system
Virtually Invisible Series II cube speakers

Impressive sound for a thrilling, cinema-like experience

Slim, 3.5" centre channel speaker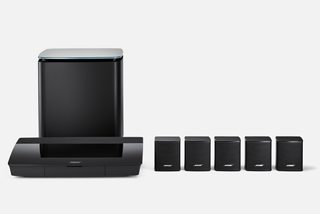 Bluetooth® connectivity
Stream music from your phone or tablet with Bluetooth® pairing with NFC.
Wireless Acoustimass bass module
Virtually eliminates distortion for deep, clean bass at any volume level.
Virtually Invisible Series II cube speakers
Powerful performance surrounds you in high-quality sound.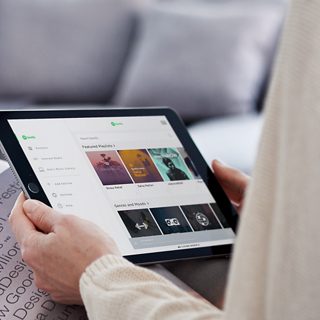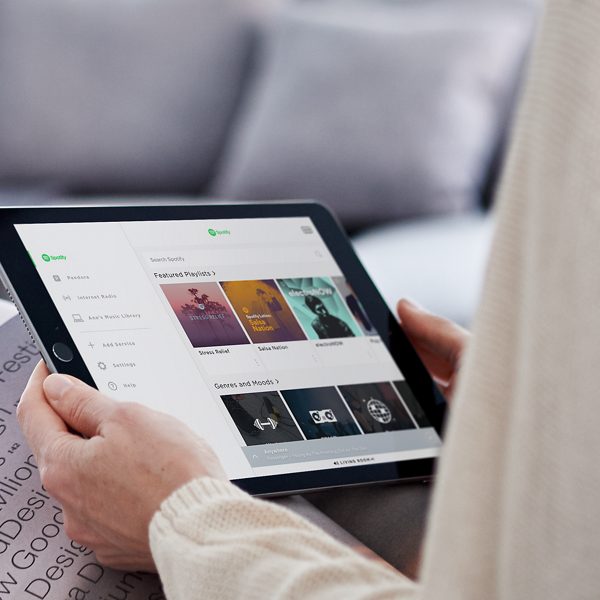 When it comes to enjoying your music, you can listen whichever way you want, without worrying about which technology is best. Play music through your Wi-Fi network for instant in-home listening. Or listen directly from a phone or tablet using a Bluetooth® connection. The Lifestyle 550 system works with other SoundTouch speakers, so as you go from room to room, your music goes with you.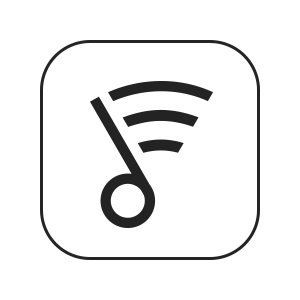 Fast, simple control of all your music

Experience your favourite music from the Lifestyle system with the SoundTouch app. SoundTouch lets you take total control of your listening experience, right from your smartphone or tablet. Browse popular music services such as Spotify® and Deezer, Internet radio or your stored music library. Easily personalise presets for one-touch access to the music you love, and control one or many SoundTouch speakers around your home.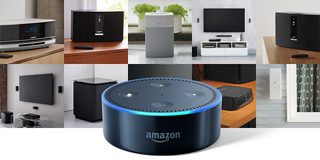 Bose + Voice. Now you're talking.
Play music. Turn it up. Or even ask what's playing. Without lifting a finger.

Enjoy hands-free voice access to your music on SoundTouch speakers using any Alexa-enabled device—like the Amazon Echo Dot. Just open the Alexa app. Search for "Bose" under the Skills menu. Then follow the simple one-time setup.
So, what can you do? Plenty. Start your funk playlist in the kitchen. Turn the volume up or down. Change tracks. Find out what's playing. And even control where it's playing—from the speaker in your kitchen to the speaker in your bedroom.

"Alexa, play some dance music in the Living Room."
"Alexa, turn up the volume in the Kitchen."
"Alexa, pause the Office."
"Alexa, next track in the Bedroom."
Engineered to keep it simple
Whether your walls are plaster, brick or glass, ADAPTiQ audio room calibration will optimise its acoustic performance for the unique characteristics of your room—giving you the best possible listening experience. And there's no need to worry about setup. With guided on-screen messages, our Unify intelligent integration simplifies the process of connecting to your entertainment sources. It will also help configure the Bose universal LED display remote to control almost all entertainment devices.
Enjoying the high-quality, lifelike sound of your Lifestyle system? We want to hear about it. Share your photos on Instagram with #Lifestyle and tag @Bose.

Specs
Dimensions/weight
Control console:

6.5 cm H x 40.59 cm W x 25.8 cm D (4 kg)

Acoustimass wireless bass module:

32.5 cm H x 29.5 cm W x 29.5 cm D (13.6 kg)

Virtually Invisible Series II speakers (each):

9.4 cm H x 8.13 cm W x 8.2 cm D (0.54 kg)
Additional details
Supported audio formats: The Lifestyle 550 system supports Dolby Digital, Dolby Digital Plus, Dolby TrueHD, DTS and Multichannel PCM.

Video source compatibility: It supports 4K resolution at 4096/60p with 12 bit. (Same as Lifestyle 600/650 systems.) It does not support Dolby Vision.
Inputs and outputs
Rear panel of the console

1 HDMI™ output with Audio Return Channel (ARC)

5 HDMI inputs

2 optical digital audio connections

2 coaxial digital audio connections

2 analogue L/R audio inputs

1 x 3.5 mm connection for the Acoustimass module

1 data port

1 IR repeater port

1 Ethernet port for SoundTouch and software updates via a network

1 USB connection for software updates only
1 HDMI input

1 x 3.5 mm jack for ADAPTiQ system and headphones

1 power button

1 source button

1 setup button the customer will press to connect Acoustimass module and rear speakers
WHAT'S IN THE BOX
Console

5 Virtually Invisible Series II cube speakers

Acoustimass wireless bass module

Universal remote control

Front speaker cable

2 rear speaker cables

5 AC-2 adapters

ADAPTiQ headset

IR emitter

HDMI cable

4 AA batteries

Console power supply

4 power cables

Screwdriver

Owner's guide
FAQs
What is the ADAPTiQ audio calibration system?
The ADAPTiQ audio calibration system is a proprietary Bose technology that customises the system's sound to the unique size, shape and furnishings of the room it's in to ensure the system delivers high-quality performance.

What is the Unify intelligent integration system?
The Unify intelligent integration system is a Bose technology that eliminates the stress and confusion of setting up a Lifestyle system. It also configures the Bose universal remote to control almost all entertainment devices. The result is a system that is customised for you, yet is as easy to use as if it were fully integrated.

Is it possible to adjust bass and treble?
Yes. The bass, treble, centre and surround levels can be adjusted through the included Bose universal remote control.

Is it possible to adjust the audio delay with ARC?
Yes. There is an A/V sync delay that applies only to the audio. This is available in all sources, including ARC. When set to zero, it will not add additional delay beyond the time needed for audio signal processing.

Can the Acoustimass 700 bass module be wired?
Yes. The Acoustimass module can be wired to the console with a 3.5-mm shielded audio cable.

What placement guidelines should be considered to ensure optimal audio performance from the Acoustimass module?
For best sound quality, the Acoustimass module should be placed on the floor against the same wall as the television. It should always be placed in the front third of the room with an electrical socket nearby for the power cable. The module should not be placed on a shelf or table.

Does the Lifestyle 550 system have Bluetooth® and NFC technology built in?
Yes. The NFC chip is built into the control console near the Bose logo on top of the console.

How do I pair a Bluetooth® device with the Lifestyle 550 using NFC?
Select the Bluetooth® source on the remote (or via the app). Ensure that your mobile device has NFC turned on. Gently tap the device near the Bose logo on the top of the control console and your device will automatically pair.

How do I pair a Bluetooth® device with the Lifestyle 550 system without using NFC?
Press and hold the Bluetooth® source button on the remote for several seconds until the light begins to flash. Ensure your mobile device is in pairing mode and select your Lifestyle 550 system. You also can pair your mobile device to your Lifestyle system using the SoundTouch app. In the app, find your Lifestyle system in the device tray, select "explore," and then select Bluetooth®. On your mobile device, select the Lifestyle system.

Is the Lifestyle 550 system compatible with Amazon Alexa-enabled products?
Yes. You can enjoy hands-free voice access to streaming music services, Internet radio and your stored library using any Alexa-enabled device—like the Amazon Echo Dot.
Do the speakers need to be hard-wired to the Lifestyle control console?
Yes. All five satellite speakers should be hard-wired to the console.

Can the wireless Bose Surround Speakers be added to Lifestyle 550?
Yes. But adding wireless rear speakers would necessitate replacing those that are included with the Lifestyle 550.

Are cables and connectors included with the Lifestyle 550 system?
Yes. Connections and setup are designed to be very user-friendly. Each speaker cable has a clearly marked, coloured connector for fast, easy connection. Furthermore, various adapters and cables are available to accommodate specific installation requirements.

How do I access SoundTouch music with the native RF remote?
You access SoundTouch music by selecting the "SoundTouch" button or selecting it from the source menu—similar to how you access other entertainment sources. From there, you can select one of your presets or browse the "Recents" list. The 1 through 6 buttons on the RF remote also will play a preset once the system is turned on and the SoundTouch source is selected.

Can the SoundTouch app control the Lifestyle 550?
The SoundTouch app allows you to turn on or switch to the SoundTouch source and then control volume. It will not control any of the other Lifestyle functions or control any attached sources. When a source other than SoundTouch is selected, it will control volume for those sources, but no device-specific functions.

Is it possible to rebroadcast the TV sound to another SoundTouch system?
Yes. You must be running SoundTouch software version 17.x or later. To rebroadcast TV sound, or sound from any of your console's other wired input sources, first start playing the desired content on your system as you normally would, using the remote. Then, go to the SoundTouch app, find your system, and add the desired secondary systems.

Support
Manuals/guides
No downloads found for this product.