Enjoy complete freedom of movement.

They're designed to maximise the strength and reliability of a wireless signal.


STAYS COMFORTABLE. STAYS PUT.
StayHear+ Sport tips are designed for comfort and stability.


For consistent performance at any volume.


IPX4 rating means these are earbuds that aren't afraid of sweat or rain.


5 hours of battery life. Place them in the protective case for safekeeping and to recharge. The case provides 10 hours of battery life.

Overview
No wires. No stopping you.
OUR FIRST TRULY WIRELESS IN-EAR HEADPHONES.
Get clear, powerful sound from our first truly wireless in-ear headphones. They're engineered to stay in place and stay comfortable. We've packed them full of technologies so you can push your workout to the next level.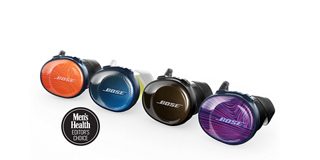 When it came to the tech inside these earbuds, we focused on every little detail—from tuning the circuits for improved sound to tweaking the antenna position for maximum Bluetooth® signal strength. The result? Headphones that play consistently and clearly whether your phone is in your hand, in your pocket, strapped to your arm or sitting on top of the treadmill—without a wire in sight.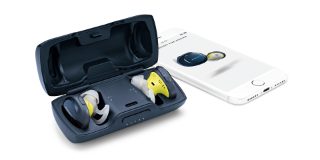 In-ears that stand out, but stay put
These headphones have an unmatched combination of comfort and stability. That's because we engineered the nozzle of our StayHear+ Sport tips to spread contact evenly around the inside of your ear, while the fin conforms naturally to the shape of the upper ridge of your ear. They won't fall out, but they will stay comfortable. And you can focus on reaching new heights in your workouts.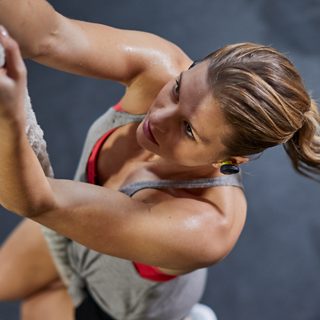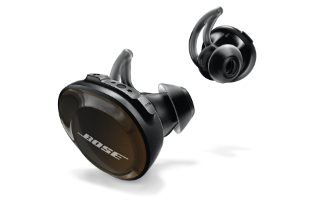 StayHear+ Sport tips
Provide a secure and comfortable fit, so your headphones won't fall out.

Multi-function button
To play, pause, skip tracks or take and end calls.
Volume-optimised EQ
We sweat over every detail to make them sound amazing at any volume.
Nozzle
Designed to spread contact evenly to stay comfortable.
Bluetooth antenna
Designed for strong, reliable connections.

Peak power for peak performance
A better athletic performance takes years of effort. The same is true with engineering the performance of headphones. And we've been working on it for decades. The volume-optimised EQ and Bose digital signal processing make music sound full and balanced at any volume. No matter how crowded the gym is, your workout playlist will keep you energised.

Sweat. Without sweating it.
Water and headphones typically don't play nicely together. But we've found a way to make it work. By using a water-repellent mesh in the open ports, we can keep what's inside dry and fully functional. These earbuds aren't afraid of sweat or rain—and now the weather can't be an excuse to skip a workout.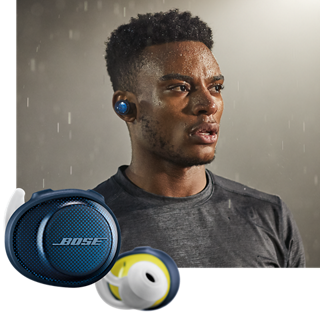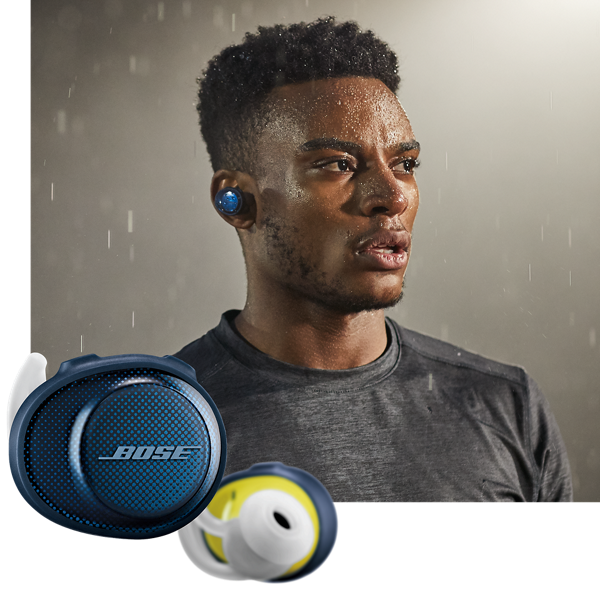 On a single charge, the earbuds play for up to 5 hours—long enough to power you through almost any workout. And when you're done, place them in their case to recover. It'll keep them protected and provides two additional full charges (or up to 10 hours of battery life) to keep them ready to go again. Plus, a quick 15-minute charge will give you 45 minutes of battery life.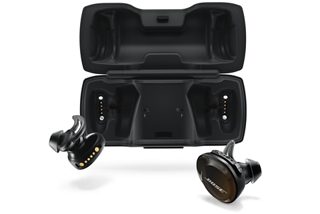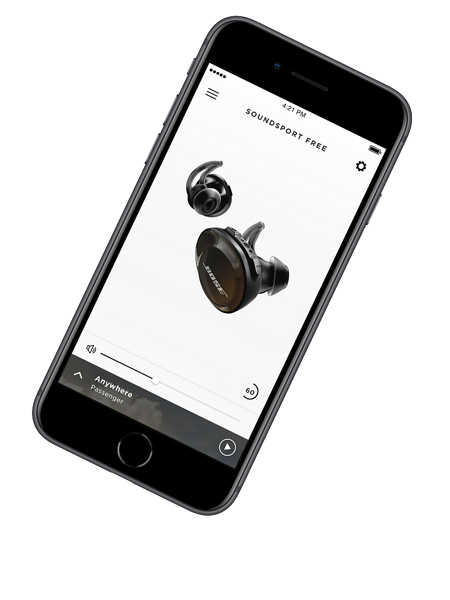 One app. Complete control.
The Bose Connect app gives you easy access to everything your product has to offer. Get tips, unlock product features and personalise your settings, so you can spend more time enjoying the music instead of setting it up.
Worried about losing an earbud? Or both? Don't worry—the Bose Connect app is here for you. Enable the Find My Buds feature, so you can easily see where your buds were last connected. Follow the map—and boom! Got 'em.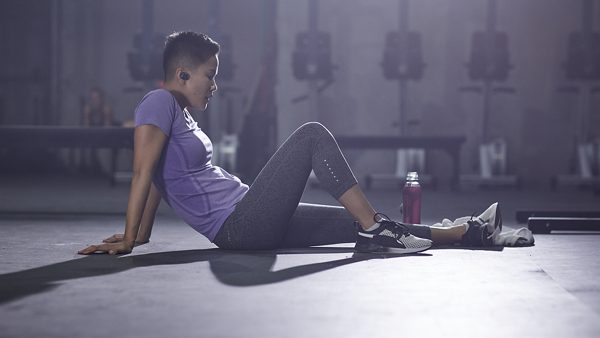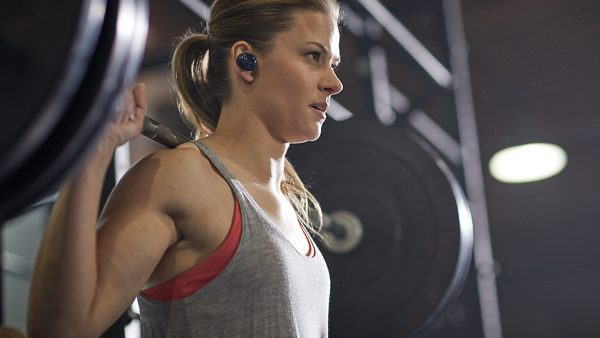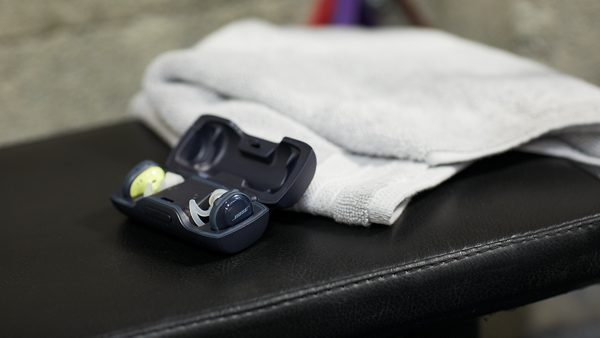 Are you pushing the limits of your workouts with SoundSport Free? We want to hear about it. Post your photos on Instagram with #SoundSport and tag @Bose.
Specs
Dimensions/weight
Headphones:

3.12 cm H x 2.5 cm W x 3 cm D (9 g each)

Case:

3.75 cm H x 10 cm W x 4.75 cm D (80 g)
Additional details
Rechargeable lithium-ion battery

Charging time: 2 hours

Battery life: 5 hours per full charge
WHAT'S IN THE BOX
SoundSport Free wireless headphones—Refurbished

Portable charging case

3 sizes of StayHear+ Sport tips

USB cable
FAQs
What is a Bose Refurbished product?
Refurbished products are a great way to enjoy Bose performance at outstanding value. A Refurbished product is one that's been returned to Bose, for any reason.
It's then thoroughly inspected, tested and serviced to meet strict Bose sound quality standards—the same as for a new product. Appearance is closely examined; products occasionally have minor, nearly imperceptible blemishes. All Refurbished products have the same warranty as new products. And are available only from Bose. Quantities are limited.

Can the SoundSport Free wireless headphones be used to provide audio for video, such as when watching a movie on a tablet?
Yes. However, the quality of the experience—specifically, synchronisation between audio and video—may be compromised. Truly wireless headphones are subject to some latency between audio and video. The latency can vary based on the device, operating system, apps, cloud-based content, network infrastructure and headphones.
Are SoundSport Free wireless headphones waterproof?
No. SoundSport Free wireless headphones have been designed to be durable enough to withstand sweat and weather. They are not designed to be submerged under water for extended periods of time, such as while swimming.
Can SoundSport Free wireless headphones take calls?
Yes. SoundSport Free headphones have an integrated dual-microphone array located on the right earbud to allow the customer to use them during calls when connected to a smartphone that supports the Bluetooth HFP profile. Call audio will be heard in the right earbud. In addition to traditional calls, the headphones will work with many apps that use Voice over Internet Protocol (VoIP), such as Skype or FaceTime.

How do I connect SoundSport Free wireless headphones to my mobile device?
When the earbuds are initially removed from the case, they will automatically enter discoverable mode and can be detected by your mobile device. To connect your device and learn about more features, download the Bose Connect app to finish the connection process. If you don't have the Bose Connect app, follow the directions within your smartphone's Bluetooth menu to connect the headphones. Once the connection has been made, the Bluetooth LED on both earbuds will turn white. To connect additional devices, press and hold the Bluetooth button located on the left earbud until you see the Bluetooth LED turn blue or hear the "ready to connect" voice prompt spoken in the right earbud. Then, follow the directions within the Bose Connect app to finish pairing.
What is the range of SoundSport Free wireless headphones?
SoundSport Free headphones connect to the source device using the right earbud. As long as the right earbud and the device are within 9 m (30 ft) of each other, the right earbud will play audio from the source device. The left earbud will stay connected to the right earbud as long as it is out of the case, charged and within 9 m (30 ft) of the right earbud. These ranges may be reduced by physical obstructions, such as walls and doors, or by interference from other electronic devices. Generally, the range of SoundSport Free wireless headphones can be described as the room the device is in and the adjacent room.
How do I charge SoundSport Free wireless headphones?
SoundSport Free headphones are charged by placing them in the included charging case. If the case has power, it will automatically charge the earbuds. The earbuds are charging when the LED lights on the case blink. Allow up to 2 hours for the headphones to fully charge. Once they are fully charged, the battery indicator light will turn solid and eventually turn off. If the case is out of power, plug the included cable into the case and plug the other end into a USB port on a computer or wall charger (sold separately).
What is the battery performance of SoundSport Free wireless headphones?
SoundSport Free wireless headphones have up to 5 hours of battery life. Battery life is defined as the number of hours for which fully charged headphones can be actively used while listening to audio or making a phone call. The included charging case can provide an additional two full charges for the earbuds for up to 10 additional hours of playback time.
Can I charge SoundSport Free wireless headphones from my PC/laptop?
Yes. SoundSport Free wireless headphones come with a USB cable that allows the charging case to be charged from your PC or laptop. Please note that the PC or laptop must be on and awake in order to charge over USB. The earbuds must be placed in the case to charge them.
Can you listen to music when the battery is depleted?
No. SoundSport Free wireless headphones will not play music when the battery is fully depleted.
Can you quickly charge the battery?
Yes. If the battery is depleted, a quick 15-minute charge provides up to 45 minutes of play time.
What do the buttons on the right earbud do?
The larger, middle button is the multi-function button. It initiates play/pause and other track controls for videos and music, answers and ends calls and also provides access to your phone's Siri or the Google Assistant. The buttons on either side of the multi-function button are volume +/- buttons. They allow you to easily adjust the volume.
How are the StayHear+ Sport tips included with the SoundSport Free wireless headphones different to the original StayHear tips?
The StayHear+ Sport tips are made of a similar soft silicone material to the original StayHear tips, but they utilise a unique umbrella shape to create a gentle seal at the entrance of the ear canal, which helps improve audio performance.
How do I differentiate between the sizes of StayHear+ Sport tips?
The StayHear+ Sport tips are colour coded. There is a small, coloured ring inside each tip that tells you what size it is.
White = Small
Grey = Medium
Black = Large
 
How are the StayHear+ Sport tips removed and replaced on the earbud?
Holding the earbud by the stem, gently grasp the attached StayHear+ Sport tip and peel it away from the earbud. Caution: To prevent tearing, grasp the StayHear+ Sport tip by its base. Do not pull on the tip wing.
Do SoundSport Free wireless headphones work with voice recognition apps?
Yes. Pressing and holding the multi-function button for 1 second will initiate voice recognition on mobile devices that support this feature.
Will SoundSport Free wireless headphones cancel out noise on a plane?
How do I clean my SoundSport Free wireless headphones?
SoundSport Free headphones should be cleaned after every use by gently wiping the buds dry. Be careful not to allow any moisture to enter the headphones through the ports. In addition, make sure you do not force any dirt or debris into the ports. Do not blow air into or vacuum the ports or nozzle.
Support
Manuals/guides
Owner's guide
Quick start guide